Further Education and Training Campaign and Identity
Education opens doors for us. It helps us to achieve our potential. It has huge benefits for the individual and for society too as it leads us to new horizons of scientific discovery, innovation, social progress, creativity and culture. In Ireland, we have become a society which places a huge value on education. We have almost a quarter of a million people in third level education, and the highest proportion of school leavers progressing to higher education in the EU. This represents our collective determination to make learning relevant and accessible for all. 
Indicating some of the many challenges, 1 in 6 students drop-out of college in their first year. Rising fees and the increasing cost of rent have meant that more families are struggling to finance college education. The average age of graduation has fallen across OECD countries, meaning that students are beginning their degrees at a younger age. In Ireland, students typically choose their degree course at around 17 years of age.
Further Education and Training
Third level education can be an enriching experience for many students, but a focus on university as the best route for all students is limiting and can exclude people with different interests and needs. That's where Further Education and Training comes in. 
Further Education and Training (FET) covers a range of educational options for individuals over 16 years of age. It covers programmes such as apprenticeships, post Leaving-Certificate (PLC) courses and traineeships. These courses typically have a focus on preparing for the world of work. Many provide learning on the job while being paid a wage, and some also provide an alternative route to third level education. 
These courses have always been available, but in 2019 a need was identified to raise awareness of these options and introduce FET to a new generation of students.

Research indicated a number of challenges facing the sector. There are entrenched social scripts that these forms of education are inferior to a university education, and that they are only an option when you had 'failed' to get into university. Language conducted qualitative research among Leaving Certificate students, unemployed adults and employed adults looking to upskill, and found that awareness of FET was low, especially among students. A campaign would have to raise awareness about the opportunities FET could open up, and positively influence the negative perceptions surrounding the sector. 
The new research indicated that attitudes to FET could change and the right campaign would increase consideration of further education as a real alternative to university education. Our goal would be to build on this emerging positive sentiment and grow the conversation.
Potential candidates for FET are all at different life stages, with different touchpoints, views and experiences to consider. What they share is the desire to learn and achieve their potential. This campaign wouldn't just be about providing information, it would be about tapping into this sense of personal hope and creating a narrative that could inspire. The message we wanted to express was that FET is an opportunity to choose the path that's right for you, and that it gives you the tools to succeed in the real world. This is the beating heart of FET. The challenge was to create a campaign that would be relevant and inspiring for all prospective learners.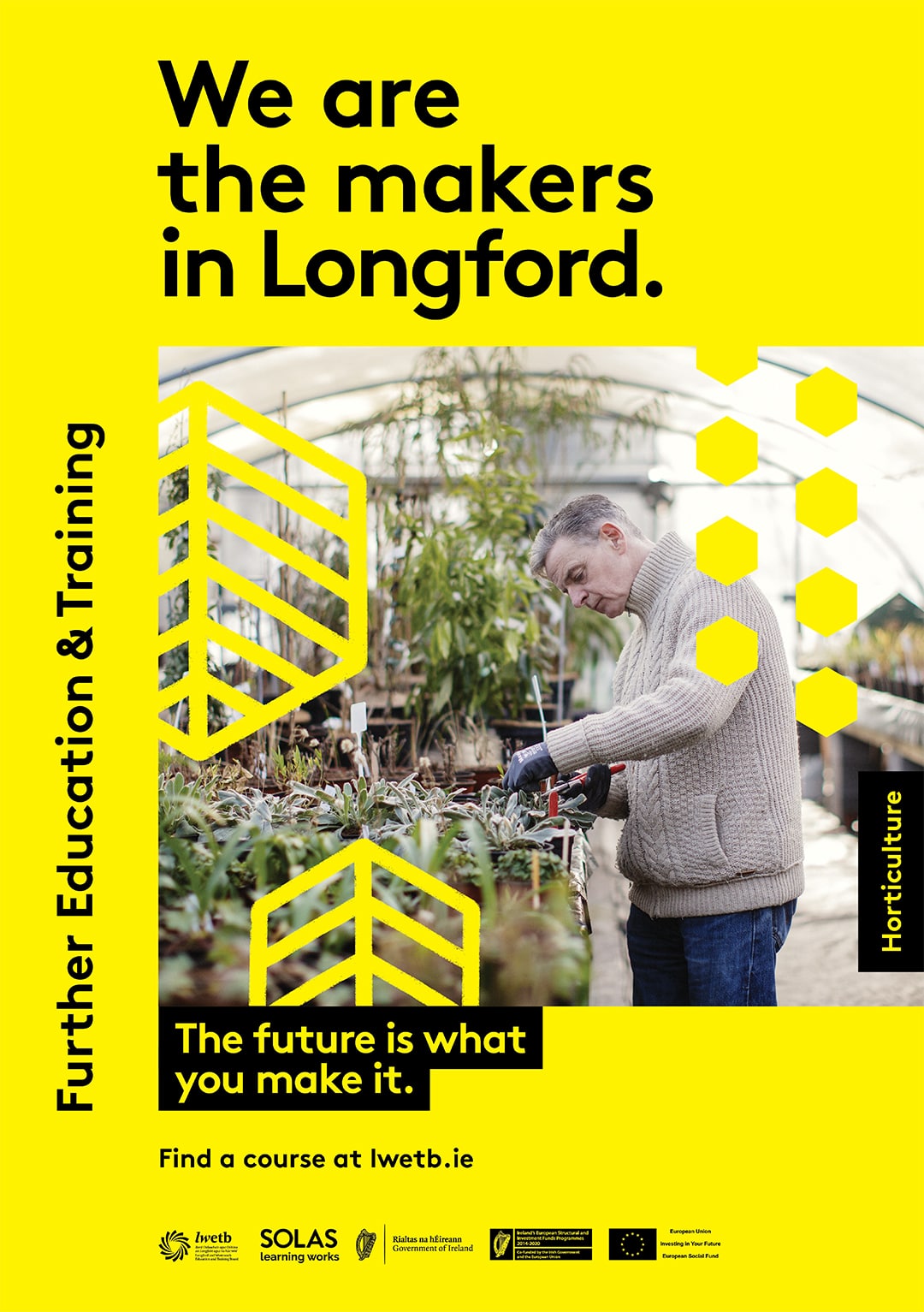 'We are the makers' encapsulated the sense of possibility FET could offer along with the self-determination and ambition of learners around the country. While the spirit of the campaign references the 'making' of craft and trade, with FET, you can choose your own path on your terms and you can be the 'maker' of your own future. 
We matched this messaging with a bright, contemporary and dynamic visual framework to bring the campaign to life, including imagery of real students and graduates that we had interviewed around Ireland.
The campaign launched during European Skills Week in October 2019 over media and PR channels. We created a website which not only provides practical information on FET, but also features news and stories to support and inspire prospective learners.
It is widely supported throughout the SOLAS network (the Europe-wide network for vocational education and training) and will be expanded regionally. The next phase of the campaign will be facilitated by our Local Campaign Communications Toolkit which provides campaign guidelines, advertising templates, photography and key messaging. This toolkit is used by local Education and Training Boards to promote the campaign at a local level. 
'We are the makers' is an empowering message for all people interested in learning. Further Education and Training caters for every individual – whatever their life stage, personal circumstances or socio-economic background. Every person has the opportunity to achieve their potential through education.