Violence against women is an epidemic. Worldwide, at least 1 in 3 women, or up to one billion women, have been beaten, coerced into sex, or otherwise abused in their lifetimes, usually by a family member, spouse, friend or acquaintance. In Ireland, 1 in 7 women have experienced abuse by a partner. When we think of domestic abuse we often think of married couples, or older women who may have children. However, abuse can also happen to younger women in their teens or twenties.
Women's Aid is a national organisation that has been working in Ireland to stop domestic violence against women and children since 1974. Language have worked with Women's Aid since 1996 on all of their communications programmes, events and campaigns. In 2011 we began working with Women's Aid to develop a campaign to raise awareness about 'dating abuse' or 'intimate relationship abuse'.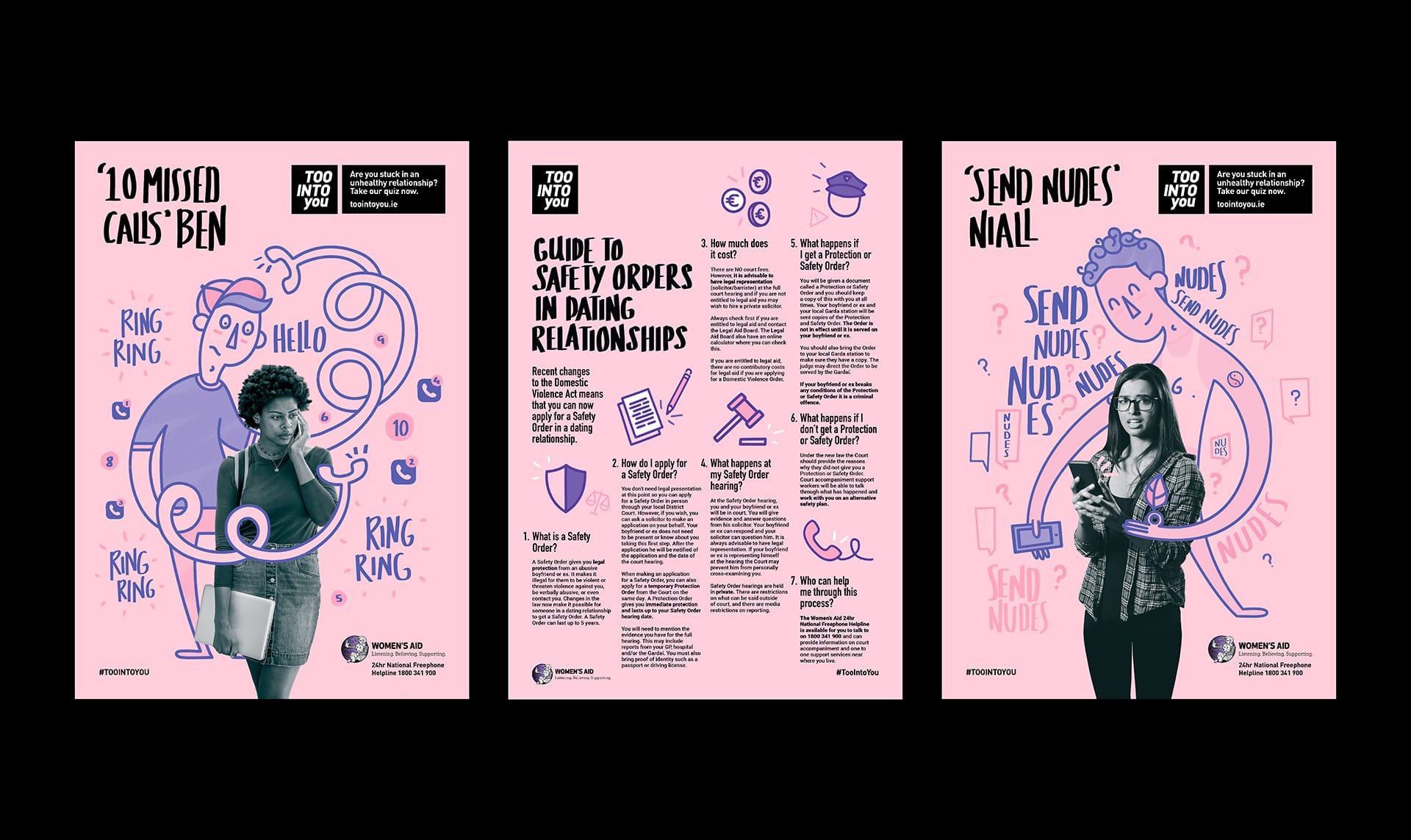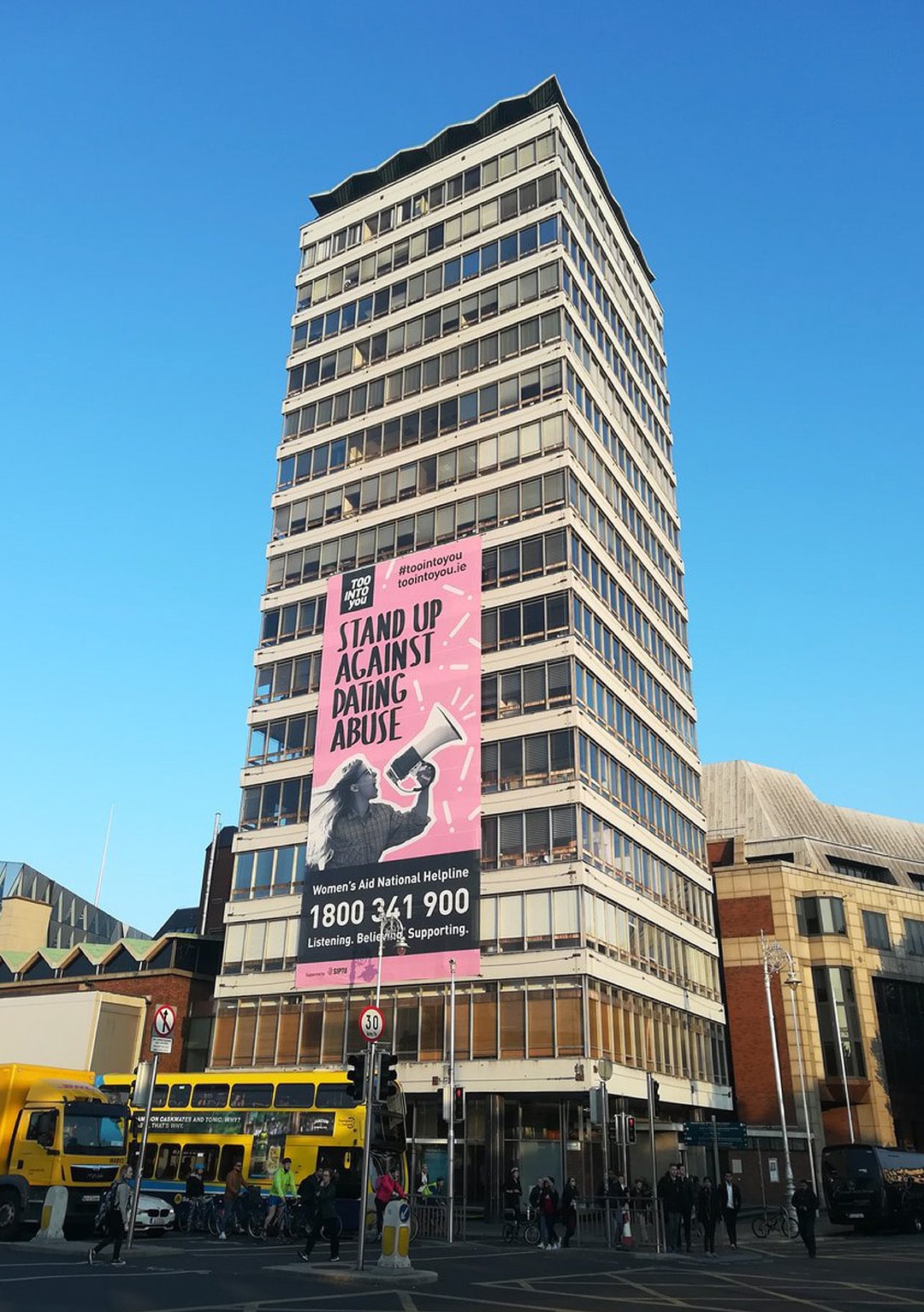 Intimate relationship abuse
The campaign objective was to help younger women recognise if they were experiencing intimate relationship abuse, and to encourage them to seek support. Younger women may actually be at higher risk of abuse than their older counterparts, but our research found that there was low recognition of certain kinds of abuse among younger women (18-25).
The campaign's core message was that 'abuse' doesn't just mean physical abuse, but also more subtle and insidious forms of coercion. This could include sexually coercive behaviour; controlling behaviour such as 'keeping tabs' on digital profiles or passwords; emotional manipulation such as distancing from friends or relatives, or threatening to hurt oneself; and other forms of harassment, coercion and control.
By dealing specifically with intimate relationship abuse, the campaign would reach younger women who may not identify with broader domestic abuse definitions or campaigns. Too Into You would employ a highly targeted approach to raise awareness among these women more effectively.
As a campaign that continually needs to appeal to new generations of young women, the styling of Too Into You has evolved over the years. In 2021 we completed a brand refresh on Too Into You, updating the identity with new colours and new design features, and making it more contemporary for our young audiences. 
The styling of the campaign, including the bright colour palette, contemporary illustration style and colloquial language used was all designed to resonate with this younger audience.
We created a website for Too Into You which hosted a number of resources for women. This included an online quiz to help women identify aspects of abuse, a list of danger signs and personal stories from other young women who had experienced abuse. If women came to the conclusion that they themselves were experiencing dating abuse, they were directed to Women's Aid for support.
Every year the campaign is updated to address new concerns, reach new audiences and maximise new channels. This campaign now runs on Instagram, Snapchat and TikTok via posts, videos, Instagram Stories and the hashtags #TooIntoYou and #YesItsAbuse. Too Into You posters maintain a strategic presence in colleges, universities and young women's restrooms across the country and every year creative activations create new interest and momentum behind the campaign. This can include everything from giveaways to influencer partnerships, public events and more.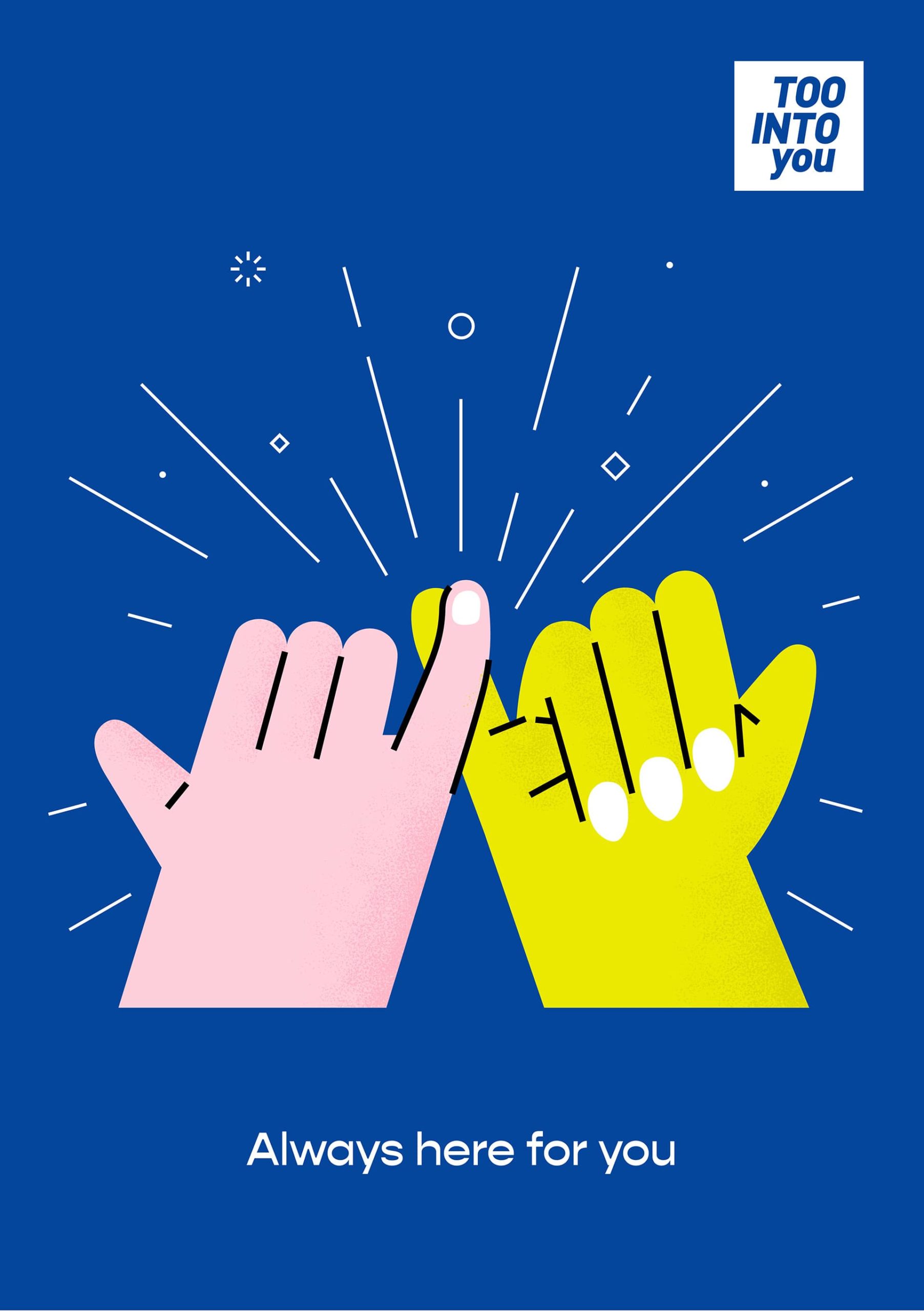 The campaign has led to over 17,000 visits to the Too Into You website. The campaign also raised awareness among the general population, giving them the knowledge and terminology to recognise signs and talk about abuse. This led to a change in the law in 2019 which means that people in 'dating relationships' are protected by the Domestic Violence Act. In 2020 the Harassment, Harmful Communications and Related Offences Bill (Coco's Law) was also passed, strengthening protections for victims of online abuse. In 2021 Too Into You won the European Parliament's European Citizenship Prize for exceptional achievements. The campaign has also gained significant coverage in the press.
Under the pressures exerted by gaslighting and emotional manipulation, acknowledgment matters. Language matters. By recognising and naming abuse for what it is, we give young women the tools to understand their own experience and demand the freedom from harm that is their right.