Gender-based sexual violence is a systemic public health and human rights issue with both short and long-term consequences for those affected and for those who support them. It directly traumatises survivors and indirectly subjugates and traumatises society.
In 2019 Noeline Blackwell, CEO of Dublin Rape Crisis Centre, initiated a process of enquiry, discovery and creative campaign development focused on consent. Blackwell saw consent and equality as inextricably connected and that consent is commonly taken for granted in longer-term relationships resulting in increased incidents of unwanted sex or rape.
Through this initiative, Dublin Rape Crisis Centre (DRCC) wanted to generate a societal shift from piecemeal, reactive responses in the aftermath of sexual violence to widespread cultural change which would both reduce the level of sexual violence over time while promoting the positive values and practice of consent.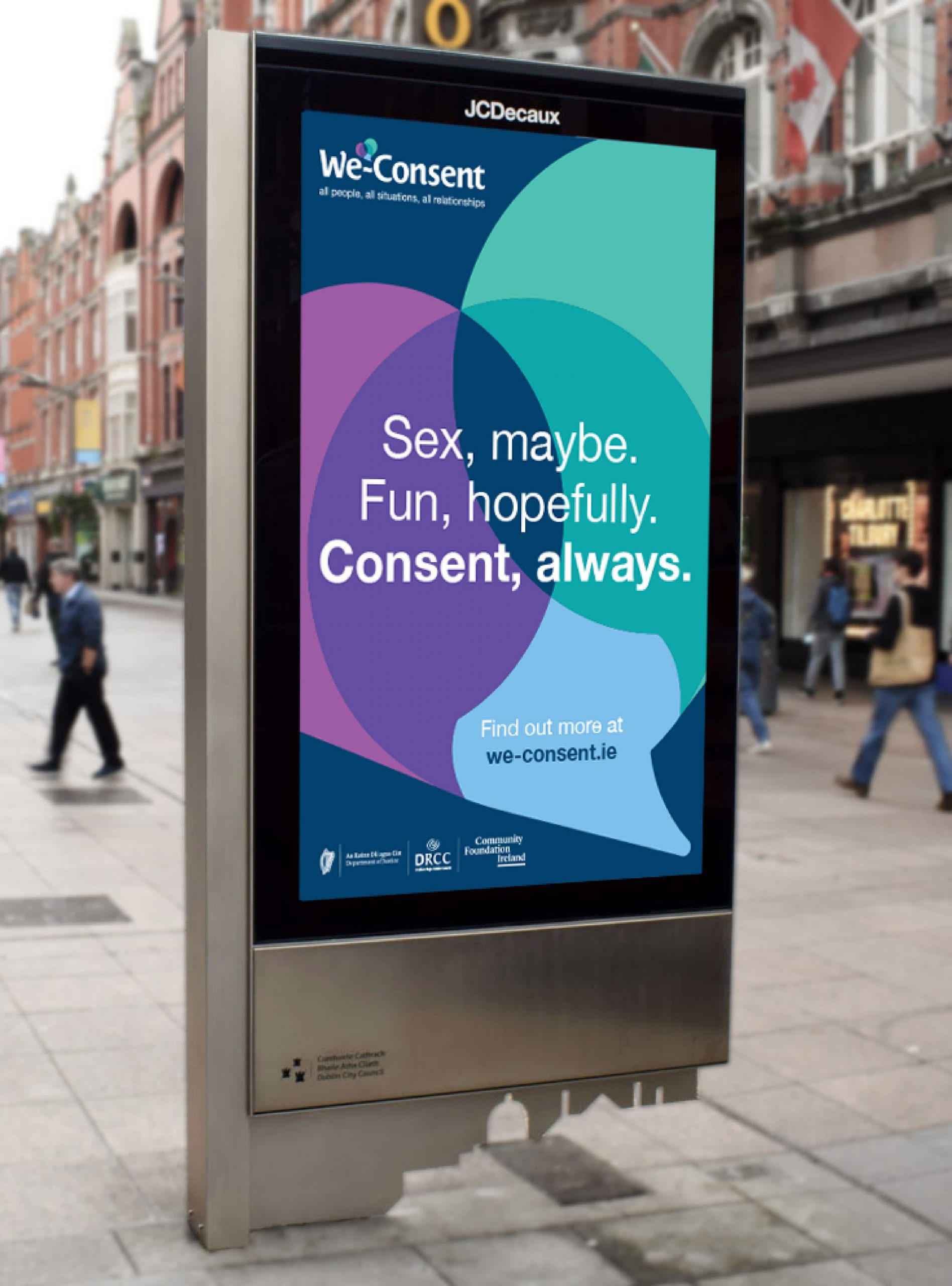 Our intention was to create new and useful campaigning insights that built on previous research. DRCC commissioned Dr Susan Leahy to conduct a literature review of existing research and previous campaigns, both Irish and international, promoting consent.
Laying the groundwork for social change means understanding what the public think and feel about consent. This required a clear model of consent practice that we could use as a framework for conducting research:
Want – that individuals know what they want or do not want at any moment.
Communicate – that people are able to talk, listen and understand what each person wants or does not want.
Act – experiencing, exploring and enjoying each other sexually.
Change – that at all times, before, during, after sex and throughout any relationship, every person feels free and empowered to change their mind about what they want or do not want.
This model has mutuality, listening and communication at its core. It has important implications for sex and sexuality education as a continuing and life-long foundation for consent. It demands the breaking of stigma and taboo around sex. It contradicts unspoken assumptions that can become dangerous silences in longer-term relationships.
Our blended methodology for research included qualitative interviews, focus groups and quantitative polling. One important factor that emerged was that consent was seen as only relevant to young adults. We found that older adults cared deeply that younger people are educated and protected around sex and consent but that the same rules do not apply to them – that once relationships have become established, it's as if the question of consent is settled. This confirmed Blackwell's insights about the potential danger of rape in marriage. It demonstrated the need for campaigns that reach older adults and messaging promoting the practice of both communicate and change in longer-term relationships.
It was clear from qualitative research that there is a strong appetite for change in Ireland –people see that more sexual openness and empowerment goes hand-in-hand with a more equal and fair society. While being fearful of embarrassment and awkwardness, the greater danger of non-consenting sex motivates all people to face this challenge. The identity for this initiative needed to express optimism and possibility of positive change for individuals, relationships and society.
We wanted to create a name which was informed by the findings of the research and which would support the goal of the campaign. It would be important that the campaign brand would be accessible, inclusive and inviting for everyone. The title We-Consent embodies a declaration and expresses equality and mutuality. We-Consent, all people, all situations, all relationships is a powerful message and an uncompromising vision for all of us.
The identity was brought to life with a design system incorporating a speech bubble and heart motif. This encapsulates the importance of communication and empathy – two key elements of the positive vision of consent the campaign seeks to promote. Copywriting needed to reframe consent from something that is agreed at one point in time to a state of continuing willingness. Campaign messages such as 'Sex, maybe. Fun, hopefully. Consent, always.' expressed positive, complex and thought-provoking framing of consent for new audiences. Further elements developed included a website, merchandise such as badges, t-shirts, digital assets and outdoor advertising.  A TV ad by directors Chris Cottam and Natasha Waugh, was brought to life by Pull the Trigger, as part of Cannes Young Lions in support of young creative talent. The film also won sponsorship from Sky Ireland, who aired the winning ad for free.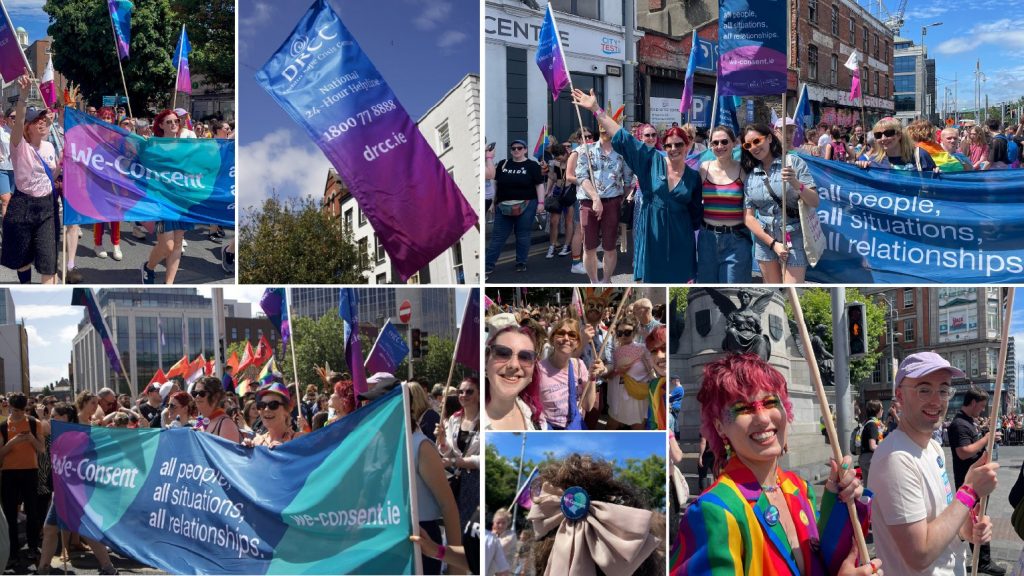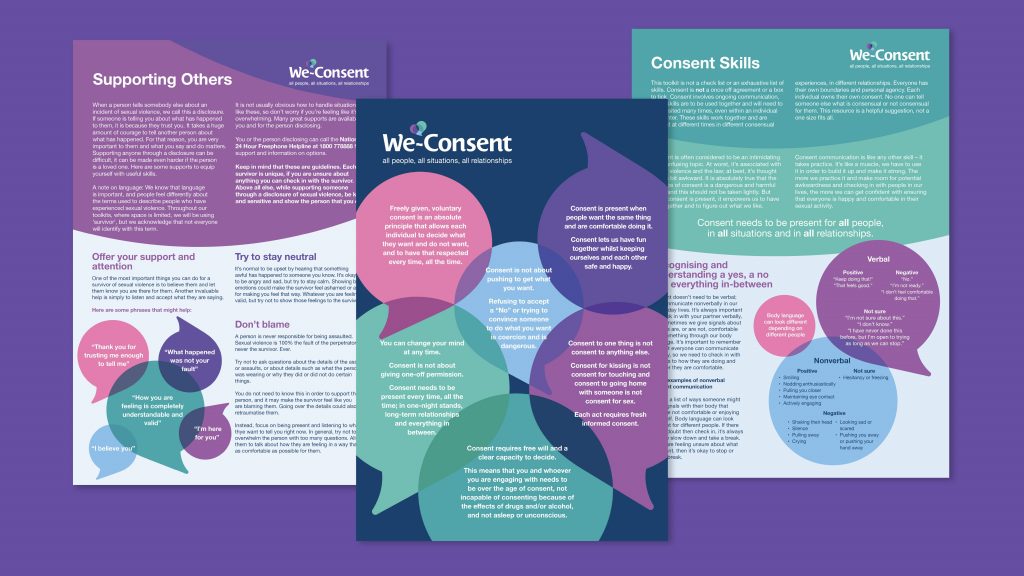 The campaign was launched in March 2023 at an event attended by Minister for Justice Simon Harris as well as a number of influential figures from advocacy groups, media and the public. It received huge media attention, including the Irish Times, RTE, Newstalk, Virgin Media News, Irish Examiner and many more. Overall the campaign was welcomed as the start of an ambitious three year initiative to reach new audiences with new messages about consent in Ireland, and bring about a cultural shift in how we address sexual violence, consent, survivor voices, and sex and relationships more generally in our society.